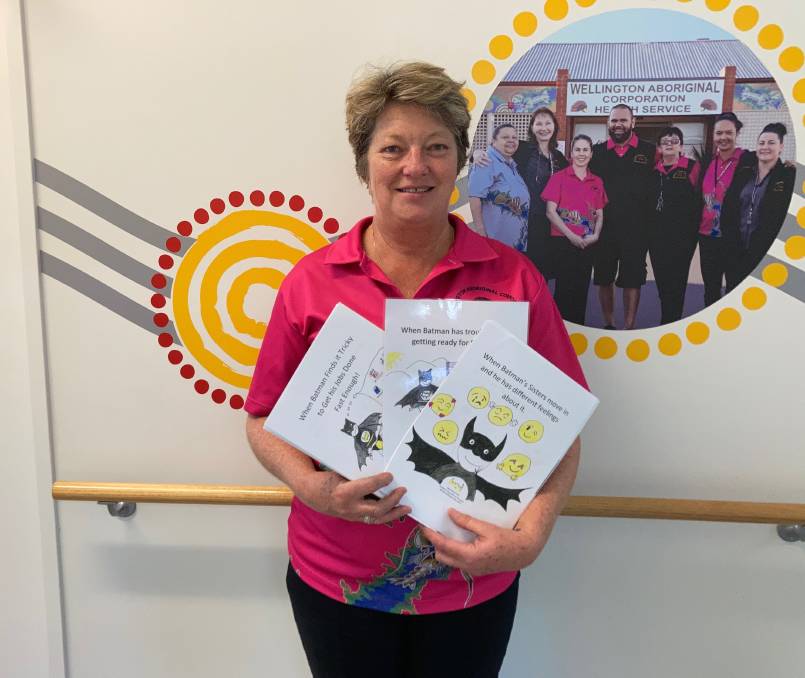 A PAEDIATRIC occupational therapist from Wellington is helping young Aboriginal children cope with life experiences through storytelling.
Paediatric occupational therapist at the Wellington Aboriginal Corporation Health Service (WACHS), Sally Brown delivered a virtual presentation at the Occupational Therapy Mental Health Forum in Melbourne last November, on the significance of storytelling for Aboriginal children in remote and regional NSW.
In her presentation she used the example of a story she wrote for a child who had suffered a head injury in a car accident. His grandmother who cares for him had identified he had not processed the accident. Ms Brown worked with the child's family to create a number of books, using the child's favourite character, Batman, who undergoes a variety of experiences and feelings relatable to the child. With her ongoing involvement with the child, she has now created four books to help address other challenges related to his changing family circumstances and the long-term effects of the injuries he sustained.
Ms Brown, who had been developing stories in collaboration with parents and carers for the last 10 years, said storytelling helps children identify with their favourite animals or characters and process their experiences, which might be difficult.
"I have been doing these stories for children that are having issues that they're finding hard to process,"
"Reading to children is a really good way to connect with them and make transitions with them, from the busy day to going to sleep."
"For issues that are raw or hard to manage, or hard to even think about, having a third party, so something that they identify with because its a favourite something, and if that favourite something is going through a similar same situation as a child, then they're able to have someone to identify with, have someone who has the same feelings as they have,"
"When you hear the child say, 'that's just like me' or 'I've got that too', you know that they've identified with it, and are able to use that to process something that's difficult."
Ms Brown however said this type of therapy takes time, and requires a relationship and knowledge of the child experiencing these developmental emotional and psychological issues. She said it was also important to collaborate with parents and caregivers to help create the stories, as they were crucial to helping the child process.
"For small children, you don't often have to have a fix-it, for them to be understood and acknowledged is often a really good place to start to grow and develop beyond that."
---
This article was written by Zaarkacha Marlan for The Daily Liberal